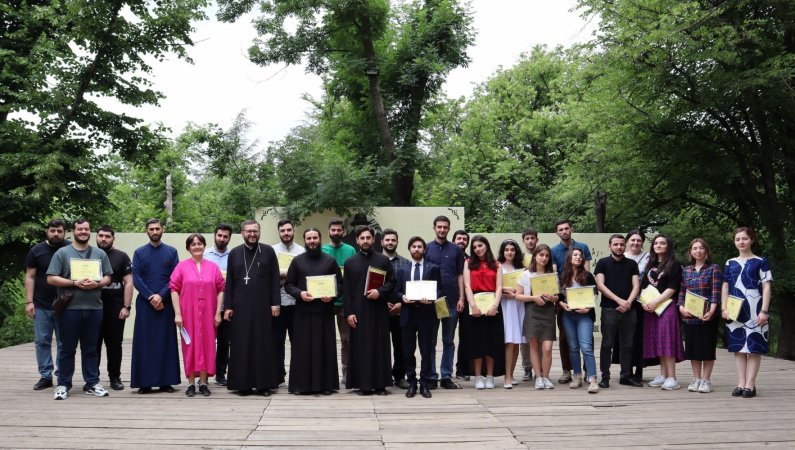 At the end of each academic year, Tbilisi Theological Academy and Seminary traditionally holds an awarding ceremony for outstanding students. This time, the students who participated in the scientific events held during the academic year of 2022 and have been participating in the events of the one of 2023 were awarded. With the blessing and special support of the Rector of Tbilisi Theological Academy and Seminary, Protopresbyter Giorgi Zviadadze, the aforementioned event was held at the Ilia Chavchavadze Saguramo State Museum. The project was conducted by Archpriest Besarion Tsintsadze, the Vice-Rector of TTAS for the Educational and Administrative Field. The organizers of the event were: the Office of the Rector, the Office of Public Relations and the Service of Sustainable Communications of TTAS.
On June 10, a group of 35 students and the organizers went to Saguramo under the leadership of the Dean of the Seminary, Priest Giorgi Vashalomidze. The students viewed with great interest the exhibits kept in Ilia Chavchavadze's House-Museum, learned and recalled the important stories related to the name of this great poet, public figure and thinker.
The Director of the Ilia Chavchavadze Saguramo State Museum, Mr. Andro Bedukadze presented copies of important scientific publications prepared by the Ilia Foundation to the library of Tbilisi Theological Academy and Seminary. The representatives of Tbilisi Theological Academy and Seminary, on their part, presented those of the books, journals and newspapers, published by the TTAS Publishing Office in recent years, to the library of the museum.
The students' awarding ceremony was held on the stage arranged in the yard of the Museum. The organizers of the event addressed the students with welcoming words, gave them certificates and souvenirs. Other visitors to the museum, who had gathered in the yard, joined the general festive mood as well. The participants of the event also visited Saint Elijah the Tishbite Church in Saguramo. The Dean of the temple, Archpriest Tariel Sikinchilashvili, blessed the students, wished them progress and success and entertained them warmly. Toast, Georgian poems and Church hymns were heard at festive table until dusk.