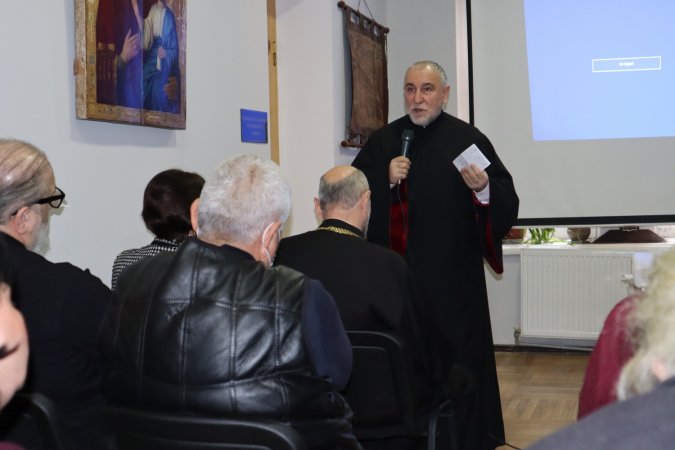 Today, on December 21, a scientific conference of professors and teachers was held at Tbilisi Theological Academy and Seminary. The conference was dedicated to the 90th jubilee of the birthday of His Holiness and Beatitude Ilia II, Catholicos-Patriarch of All Georgia, Archbishop of Mtskheta and Tbilisi and Metropolitan of Tskhum-Apkhazeti and the 45th Anniversary of his Enthronement. The conference was opened by the Rector of the Academy and Seminary, Doctor of Philology, Theology and Political Sciences, Protopresbyter Giorgi Zviadadze, who once again congratulated the Foremost Hierarch of the Church of Georgia on his jubilee days and briefly spoke about his service to the nation.
The audience heard three reports.
Doctor of Theology and History, Head of the Department of History of Georgia, Professor Sergo Vardosanidze gave a talk, titled "The 12th Church Assembly and the Election of the Catholicos-Patriarch". The speaker spoke about the XII Church Assembly of the Apostolic Orthodox Church of Georgia held on December 23, 1977, which unanimously supported the candidacy of Metropolitan Ilia (Shiolashvili) of Tskhum-Apkhazeti and elected him as the Catholicos-Patriarch of all Georgia, conferring on him the name - His Holiness and Beatitude Ilia II.
Mr. Sergo remembered with gratitude that historical day and congratulated His Holiness and Beatitude on his jubilee dates.
The teacher of the Department of Patristics and Dogmatics, Doctor of Philology, Eka Tughashvili gave a talk, titled "Catholic Patriarch of Georgia and International Relations". In her speech, Eka Tughashvili touched on the international authority of the Catholicos-Patriarch of Georgia, the letters of the Church leaders of Constantinople, Alexandria, Jerusalem, Greece, Cyprus, in which the merit of the Catholicos-Patriarch of Georgia is clearly evaluated.
The speaker also spoke about His Holiness' visit to the Monastery of Iveron on Mount Athos.
The Head of the Department of Patristics and Dogmatics, Doctor of Theology and Philology, Professor Edisher Chelidze, gave a talk, titled "The Correct Edition of the Old Georgian Translation of the Psalms".
The speaker drew the audience's attention to the difficulty associated with the process of editing and correcting the text of the old Georgian editions of the Psalms. "The mentioned difficulty, on the one hand, is due to the fact that not infrequently, an old Georgian text of any kind, taken separately, may seem completely correct and only a comparison with the original (as well as translations in other languages) may clarify the existing mistake. On the other hand, in some cases, the text is correctly preserved, but researchers' (and publishers') understanding of it is wrong", said Professor Edisher Chelidze.
By comparing one of the verses of the psalm with its Greek text, he ascertained its Georgian translation even with more exactness.
At the end of the conference, a film, titled "Meeting after 1000 Years" (the Patriarch in Greece and on Mount Athos) was shown. The documentary is directed by Tatia Topuria and depicts the work of the Patriarch.