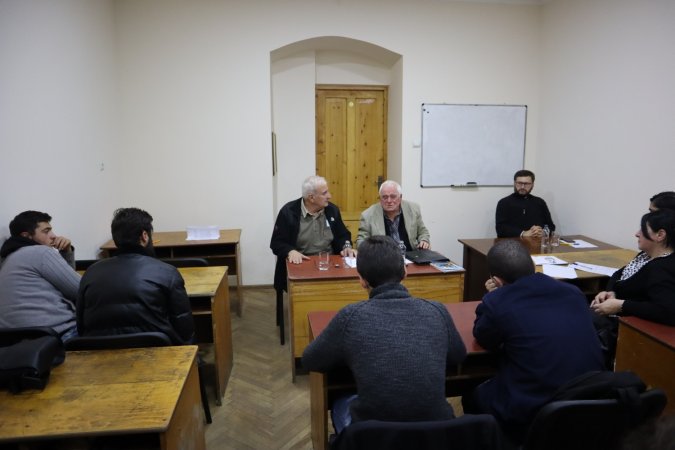 Today, the students of Tbilisi Theological Academy and Seminary met with the famous Georgian researcher, Doctor of History, Professor Vakhtang Goiladze. The topic of his lecture was: the fate of the "Life of the Kings" and the problems of Georgian history, related to this book.
The meeting was chaired by the lecturer of Tbilisi Theological Academy and Seminary, Doctor of History, Professor Eldar Bubulashvili. He told the audience about Mr. Vakhtang Goiladze's activities and important scientific discoveries. The subject of the Professor's research is significant, but less studied or still unidentified facts of the culture and history of the Middle Ages.
He is the author of more than one hundred and forty scientific works, twenty of which are monographs and brochures, dozens of newspaper and encyclopedic letters. He studies the political, social and Church life in the pre-feudal Georgia, Georgia's relationship with Byzantium, Sassanid Iran, the ancient Hunnic-Turkish world and unions of Ossetes. The facts and events reflecting the achievements of King Vakhtang Gorgasli, Saint Nino, Saint Andrew the First-Called and those of the Assyrian Fathers, and issues of chronology and toponymy related to them, are studied in his works as well.
Mr. Vakhtang Goiladze discusses the events of Georgian history in terms of geo-political and religious relations of the Christian, Mazdean, and Muslim worlds, profoundly researching foreign and Georgian sources.
The aforementioned topic was discussed in a wide cultural and historical aspect and aroused great interest of the listeners.
At the end of the meeting, the Dean of the Theological Seminary, Priest Giorgi Vashalomidze, on behalf of TTAS, expressed his gratitude to the famous scientist for his interesting and fruitful lecture.