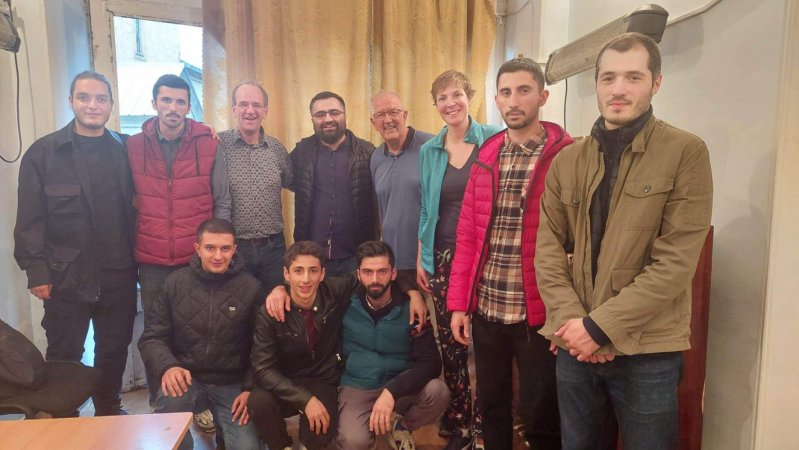 A few days ago, the sounds of singing coming out of the room where a lecture was being delivered by Lasha Zaalishvili, a teacher of singing at Tbilisi Theological Academy and Seminary, Master of Art in Music and Theology, attracted the attention of a foreign lady and her accompanying persons. They excitedly asked for permission to attend the lecture. A flow of foreign tourists to Sioni Cathedral Temple never ceases, but such a request from among them was an unprecedented case.
The lady turned out to be the Head of a choir of Dutch musicians. They had come to Georgia on another visit to study our songs. On that day, Lasha Zaalishvili was working with a group of singers consisting of the students of the Faculty of Church Architecture, Icon Painting, Restoration of Easel and Monumental Icon Painting. They were rehearsing for the jubilee days of the enthronement of our patriarch. Mr. Lasha Zaalishvili was of course happy to invite his Dutch colleagues to the lecture and at the same meeting he taught them the hymn Holy God, created by His Holiness and Beatitude, Catholicos-Patriarch of All Georgia, Ilia II, and a hymn dedicated to Saint Nino. The guests were enchanted by the melodiousness of the hymns. Lasha Zaalishvili told them briefly about the life and work of His Holiness and Beatitude. The musicians were surprised by the fact that His Holiness and Beatitude Ilia II has been governing the Patriarchate for 45 years, that he is an excellent icon painter and the author of many hymns. The guests attended another rehearsal and asked the teacher for a recording of the hymns performed by the choir, so that these recordings would guide them in their work after they would have returned to their homeland.
As a sign of gratitude, the guests presented Dutch national sweets to Lasha Zaalishvili and, with the hope of a future meeting and cooperation, left the host.