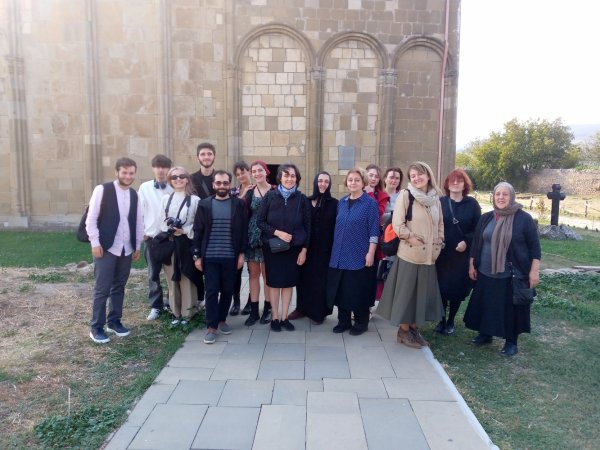 Depending on the specifics of the educational program, the students of the Faculty of Christian Arts and Theory of Tbilisi Theological Academy and Seminary receive training and have field practice in different regions of Georgia. For the present, the students, supervised by their teachers and authorities of the faculty, have completed their visit to the monuments of cultural heritage located in the municipalities of Kaspi and Khashuri regions.
According to the previously drawn up plan, the students visited and studied two medieval cross-domed churches – the Temple of Samtavisi (10th-11th centuries), the initial history of which is related to King Vakhtang Gorgasli, and the Temple of Tsromi (7th century), which, as it is emphasised, represents a monument of a new stage of Georgian architecture and, with its artistic merits, is even considered equal to the Temple of Jvari in Mtskheta.
The teachers of the department spoke extensively about the history of the temples, architecture, painting and the inscriptions preserved there. The historical monument made a great impression on the students as they saw them personally. The material, which was a tangible reality for the students, helped them to further develop the artistic and theological knowledge they had acquired at this school. The day proved to be interesting and fruitful for everyone.