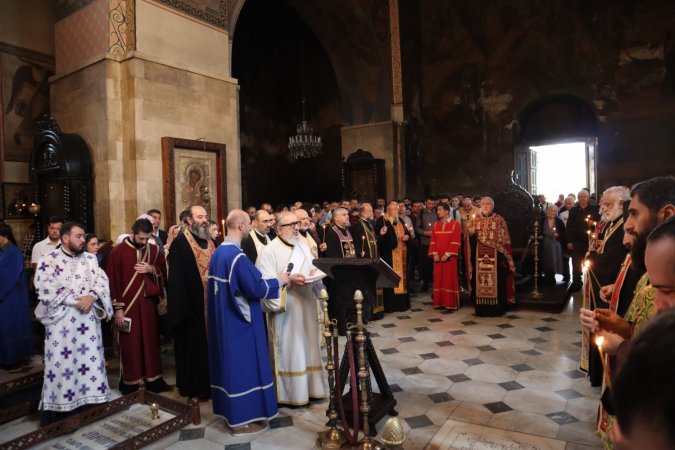 At Tbilisi Theological Academy and Seminary, the 14th of September is the beginning of the new academic year. It coincides with one of the most important holidays of the Orthodox Church – Indiction of the Ecclesiastical New Year. According to the Evangelical Teaching, on this day the Savoiur entered the synagogue and read to the gathered community a passage from the Book of the Prophet Isaiah, which bore a message about the Salvation of humankind.
At Sioni Cathedral of the Dormition of the Holy Theotokos, the Rector of Tbilisi Theological Academy and Seminary, Protopresbyter of the Orthodox Church of Georgia Giorgi Zviadadze, with the concelebrant clergy, who at the same time are the teachers of this institution, and the clergy of Sioni Temple, offered Moleben. The Choir of Sioni Cathedral and, conducted by the teacher of TTAS Lekso Gremelashvili the choir of TTAS, sang hymns. The TTAS students, professors, teachers, staff and the community of the faithful attended the Moleben.
After the conclusion of the Moleben, the Most Rev. Protopresbyter Giorgi Zviadadze spoke about the mission of TTAS, the foremost theological school. He explained that the academy and seminary are the bosom of the unity and melding of spiritual vision and science, faith and knowledge. He congratulated the TTAS students, professors and teachers on the beginning of the New Academic Year, blessed and wished them a successful and fruitful year.
In connection with this outstanding day, the Workshop of Icon Paining (the Head – icon painter, Doctor of History, Maka Chkheidze) exhibited students' works created in 2021-2022. The exhibition earned great interest and approval from the guests.