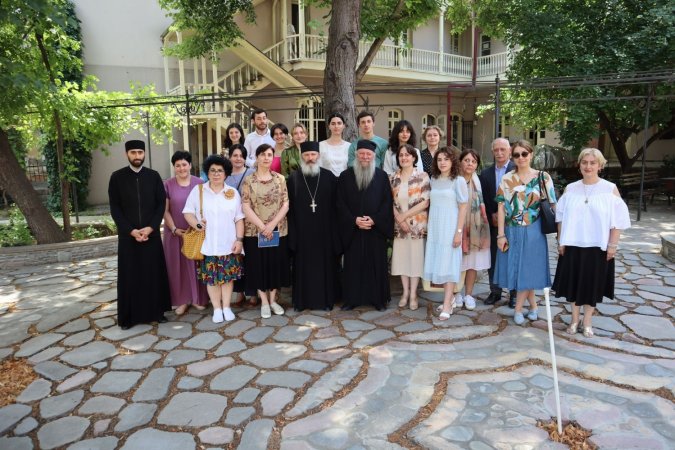 I will briefly dwell on the appreciation part of my speech, lest human praise hinder and harm the grace granted by God, which is invisible to the physical eye and man experiences it internally.
I am gladdened today, because the graduates have presented themselves very well!
I am gladdened that their current success is the result of a close, joint cooperation with teachers - the older ones work and the younger ones, as a fertile soil, give us the benefits of that work. We are all witnessing it, today.


I am glad that each of these students has acquired the skill of dealing with samples of old wall painting being completely free from fear that they will damage the sanctity!


It is very good that all this is happening in the bosom of the Church, because the Church is the primary owner of churches and monasteries, our cultural heritage, and therefore, is obligated to take care of it, not superficially, not in haste, but with deep knowledge of this specialty, this issue. I am gladdened because today I saw it!


The very fact that students are making plaster and working on the wall assigned for the process of practice, likewise, they would on an oldest wall painting, is very important. It is significant that one feels their meekness and propriety while they are working on each figure of the composition. When we enter the space of the temple and start to use our skills, the most important thing is to remember Who we are standing before and how we are standing.


The words of gratitude belong first of all to God, and then to the Catholicos-Patriarch. Today, we are witnessing one of the visible miracles as the students have presented themselves with dignity as the children of the Church. Their speech is logical, deeply thought out, based on knowledge, which cannot be shaken by anything, likewise the fact that God's grace, this invisible treasure, is in the heart of each of us, and neither rust nor thieves can overpower it.


Considering the circumstances that are created around the Church or are taking place today, such a future generation is very necessary and important. It is indispensable for the Church to have a solid foundation, and not a superficial one, because, by God's grace, our country has many churches and monasteries, which need help. In addition, if something is damaged, it is done not only because of a superficial approach and lack of knowledge, but also because of covetousness. In these conditions, these young people acquire knowledge and work selflessly.
I think that the very decision of the Minister of Culture that the excellent students presented by us will be financed and sent to the world's leading restoration centers, where they will receive education and experience, is first of all the merit of our Patriarch and then of each of you who did not let down the thoughts and hope of our Catholic-Patriarch.


I would like to thank the Rector of TTAS, Father Giorgi Zviadadze. We all remember how much time and how many years it took for this school to become what it is today and to acquire the function that God had determined from the beginning, which is to be the central educational institution of knowledge and faith.


Wall painting is not just about drawing a contour well with a brush, it is first of all a deep knowledge, it is a necessary inner prayerful mood which each of you should work with, whether when you have to do with an icon or a wall painting.
This skill or habit of these people is politeness before us and modesty before God.
The success you have attained at present is the result of your teachers' tireless work, who supervised your activities; it is the fruit of their unremitting work done together with their students night and day.


It is good when others see such a diploma defense and presentation, as well as it is covered on television and in the press. I would wish the students of Ecclesiastical Architecture and other faculties to attend the defense of the works of the students of the Faculty of Icon Painting and Restoration of Easel and Monumental Icon Painting. In addition, joint projects should be done.


It was said here that in carrying out restoration work, each student damaged not his own work, but the work of others. After that, you should be able to damage your own work as well. There is no need to fear. I remember when I was a child, when I was saving my old paintings, my father, who was an artist by profession, noticed it and asked me, what are you saving? Old paintings – I answered. Then he advised me not to spare to throw away whatever I did not like among my paintings, so that I did not stay attached to my weak or strong ones.


Likewise, I advise you, do not be afraid to damage it, because you are acquiring your skills while working on a foam wall. You must acquire the necessary skills now and here, along with standing before the holy objects with reverence.


You know God's history and it is very important because you are to experience what you are doing!
This activity reveals your personality to others. If in Georgia, you are the ambassadors of your family, beyond Georgia you are the ambassadors of your nation and country!
You are people who can promulgate objective information about our country the world over!
Be like this always!
I am happy and grateful for that!
May God bless you! 24. 06. 2022.