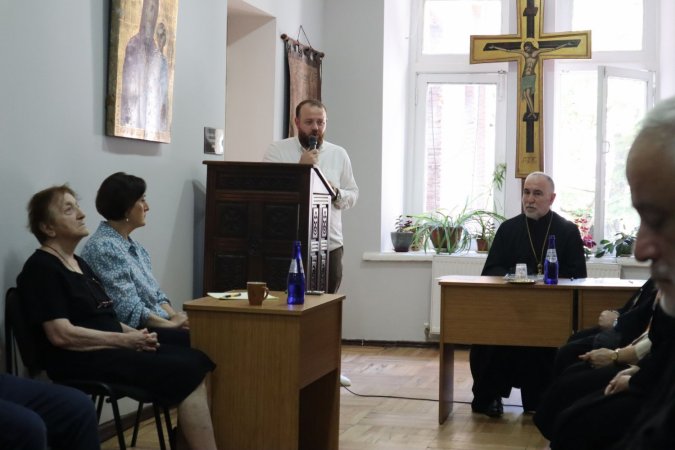 Day II


On July 4, 2022, Giorgi Natenadze, a student involved in the Master's degree program, defended his thesis on the topic – "Work and Literary Heritage of Saint Antimoz of Iberia". The Supervisor of his work was Doctor of Philological Sciences, Professor Gvantsa Koplatadze, the Reviewer -
Doctor of Ecclesiastical Law, Archpriest Alexi Kshutashvili. The session was presided over by the Rector of TTAS, Protopresbyter Giorgi Zviadadze.


Giorgi Natenadze introduced the content of his Master's degree thesis to the audience - reviewed the biography of Saint Antimoz of Iberia, spoke in detail about his ecclesiastical, cultural and educational work and his martyrdom.


The scientific supervisor of the Master's degree student, Professor Gvantsa Koplatadze, positively evaluated Giorgi Natenadze's work. She drew the audience's attention especially to the part of the work, which contains theological analysis of Saint Antimoz's sermons and which even displays the studet's skills necessary for independent scientific research.


While reviewing the work, Archpriest Alexi Kshutashvili, traditionally analyzed its structural features and content. He noted that the special role and merit of Saint Antimoz of Iberia in the life of the Romanian people is substantiated in the work. In addition, an in-depth analysis is given to the cultural and educational reforms that are associated with Saint Antimoz and were aimed at renewing the Romanian written and liturgical language, ecclesiastical legislation and law making, development of the rhetorical genre, construction of churches and monasteries, etc. The reviewer noted that the modern studies of Georgian and foreign scientists are referred to in the master's degree thesis.
The student extensively and comprehensively answered the questions of Protopresbyter Giorgi Zviadadze, professors: Archpriest Bidzina Gunia and Archpriest Maxime Chanturia.


The members of the council evaluated the master's thesis with a high score and congratulated the graduate on the award of an academic degree of Master of Theology.


Giorgi Natenadze expressed his cordial gratitude to the Rector and professors of the school for their labour, support and caring attitude.