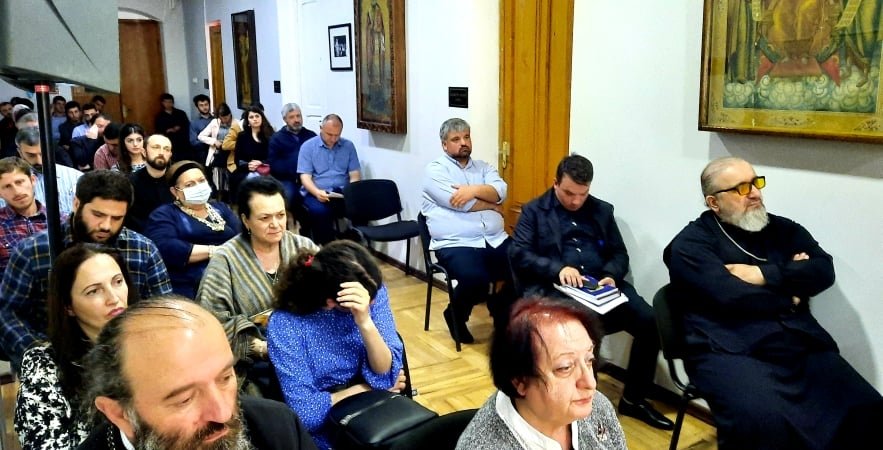 On May 18, the Students' Scientific Conference, dedicated to the 104th anniversary of the Restoration of Georgia's Independence, resumed its work at Tbilisi Theological Academy and Seminary.
The session was chaired by Professor Sergo Vardosanidze, Doctor of History and Theology. Mr. Sergo Vardosanidze once again mentioned that on May 26, 1918, the act adopted by the National Council at the former residence of the Governor of the Caucasus, declared the independence of the Democratic Republic of Georgia and, since that day, Georgians have been fighting for the independence of the country. The aim of the conference is to develop the students' skills in scientific work and research as well as to inspire respect for the idea of independence and desire for serving it, to treasure it in perpetuity.
The first year students of TTAS, involved in Master of Theology Program, presented interesting reports at the conference: Priest Giorgi Tandilashvili's topic – "On the Issue of Relation of Contemporary Georgian Art to the Orthodox Principles" (the supervisor – Khatuna Memanishvili), and Deacon Genadi Tlashadze's topic – "The Role of the Orthodox Faith in the Formation of Georgian Culture" (the supervisor – Khatuna Memanishvili). The speakers' reports were well received by the audience.
Rector of Tbilisi Theological Academy and Seminary, Doctor of Philology, Theology and Politics, Protopresbyter Giorgi Zviadadze attended the conference and summarized its work.
He spoke about the importance of the conference and the need to develop in students skills and habits necessary for an educated and godly person. The Rector of the academy positively assessed the work of the conference and thanked its organizers, speakers and audience.