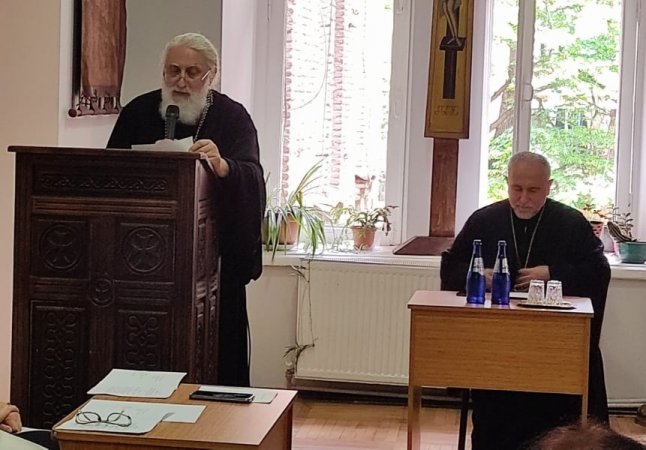 Today, on May 4, the Annual Scientific Conference of Professors and Teachers was opened at Tbilisi Theological Academy and Seminary.
It has become a tradition at Tbilisi Theological Academy and Seminary that the Scientific Conference of Professors and Teachers is held at the end of every spring semester. This year it is dedicated to the 185th anniversary of the birth of Saint Ilia the Righteous (Chavchavadze).
The event will extend over two days. Papers presented at the conference have a variety of contents and include researches of theological, philological, historical, philosophical and other dimensions.
The Rector of Tbilisi Theological Academy and Seminary, PhD of Theology, Philology and Politics, Protopresbyter Giorgi Zviadadze opened the conference with an introductory speech. He spoke about the importance of the scientific conference in the educational life of the academy and seminary, noting that even from its inception the conference inherited the educational traditions that had existed in Gelati Theological School from the very beginning. It represents a kind of summary of research conducted by the professors and teachers throughout the year in the process of the study of Orthodoxy from the angle of its scientific and pastoral content. In this way as well, the school becomes a reliable foundation for the salvific faith and scientific thought.


The following speakers delivered speeches at the plenary session:
1. Doctor of Philology and Theology, Archpriest Bidzina Gunia - Gender Theory Yesterday and Today;
2. Doctor of Philology Maia Rafava - Unknown Greek Epigram about Ioane the Athonite;
3. Doctor of Philology Lela Khachidze – "Calendar" by Michael Modrekili;
4. Doctor of History and Theology Sergo Vardosanidze – Hand in to Me the Key to the University (Arshak Babov v. Georgian University).