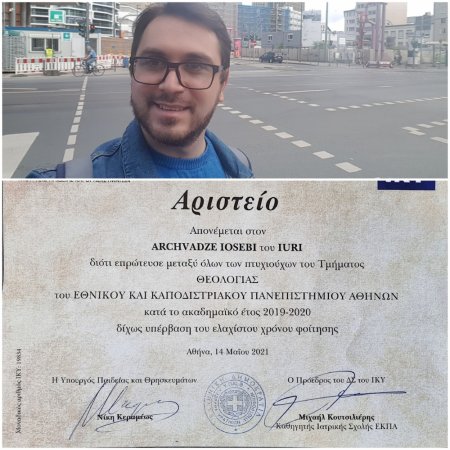 We have good news to share! On October 27, Ioseb Archvadze, a graduate of Tbilisi Theological Seminary, who continued his studies in 2016 at the Faculty of Theology of National and Kapodistrian University of Athens, Greece, was awarded the "Prize of Honor".
Ioseb Archvadze entered Tbilisi Theological Seminary in 2010 and left it in 2014. In the same year, he continued his studies at Tbilisi Theological Academy. In 2015, with the blessing of His Holiness and Beatitude, the Catholicos-Patriarch of All Georgia Ilia II, he left for Greece to continue he studies there. Iinitially, he took a one-year course of Modern Greek, and in 2016 he enrolled in the Bachelor's degree program of Theology at National and Kapodistrian University of Athens. Ioseb Archvadze accomplished his bachelor's degree in 2020 with the highest average score - 9, 25. In the same year, the State Scholarship Office of Greece announced a competition for the "Excellence Premium". To win the premium, the graduates were required to meet two points: they had to have the highest average score among the 2019-2020 graduates and to have completed the bachelor's degree in the time specified by the program - 8 semesters. It turned out that only Ioseb Archvadze met the requirements of the competition among about 60 graduates of the university. He received a one-time premium and a certificate signed by the Minister of Education and Religions of Greece and the President of the State Scholarship Office.


Currently, Ioseb Archvadze is a Master's degree student at the above-mentioned university. His is taking "The Holy Fathers' Teachings" under the supervision of Professor George Stavropoulos.


Tbilisi Theological Academy and Seminary congratulates Ioseb Archvadze on the deserved award and is justifiably proud of its graduate, whose progress in theological studies has been laid the foundation for within its walls! We hope in the future you will find more information on his successes on our website!