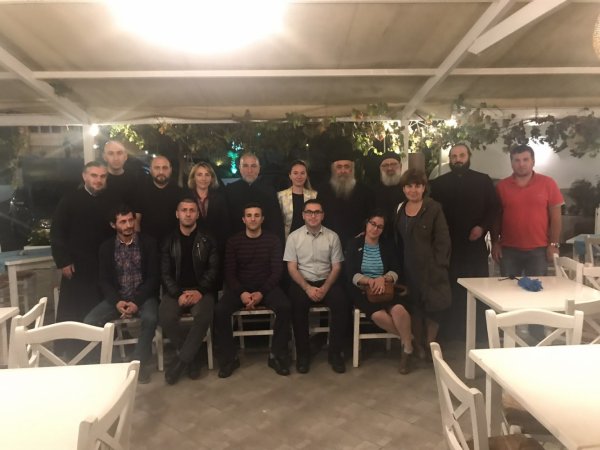 Within the framework of the visit, on the invitation of the Rector of Tbilisi Theological Academy and Seminary Protopresbyter Giorgi Zviadadze, a meeting with the Georgian students of the University of Athens was held.
The participants talked about their studies and achievements. The Rector of the Academy and Seminary noted that to support and maintain contacts with students living and studying abroad is of paramount importance.
Protopresbyter Giorgi Zviadadze, Archimandrite Seraphim (Chedia) and Archpriest Shalva Kekelia spoke about the importance of a stalwart adherence to the Church and ecclesiastical teaching, respect for the ecclesiastical hierarchy which every student should have; the norms of Canonical Law and Christian ethics should be kept; the students should live a life of a Christian in the bosom of the Church; they should acquire a profound knowledge in theological sciences and with all this make his personal contribution to the revival and strengthening of the Georgian Christian thought and Christian life.


To guarantee the further support for the students living in Athens, the representative of the Embassy of Georgia in Greece, Senior Counselor Mrs. Dea Mumladze and the clergymen working in Athens – Archimandrite Abbibos (Tariades) and the graduate of the Programme of Theology at the University of Athens, Hierodeacon Nicholoz (Khvichia) were invited to the meeting.
The delegation imparted on the students the information about the meeting with the Dean of the School of Theology at the University of Athens and the plans settled for the future cooperation. This cooperation encompasses the exchange of students within the framework of the programme of Theology, personnel training for the further development of the programmes and conducting of joint events dedicated to scientific activities. The students are also informed about the current changes and novelties at Tbilisi Theological Academy and Seminary.