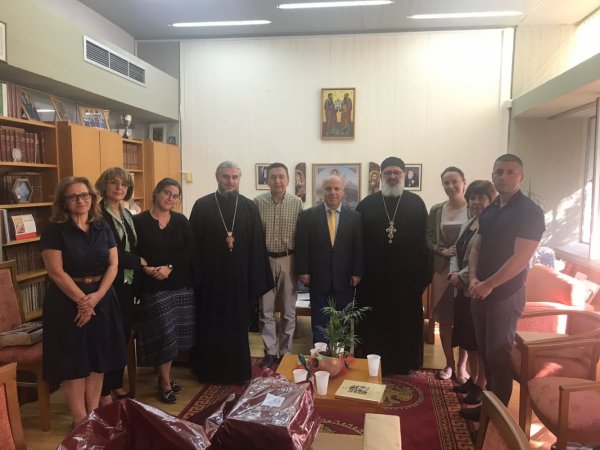 A delegation from Tbilisi Theological Academy and Seminary visited the University of Athens with the purpose of deepening scientific and academic cooperation with this university.

Within the framework of the visit, the Dean of the School of Theology, working under the aegis of the university, Professor Apostolos Nicolaides held a meeting. The head of the Department of Theology of the University of Athens, Associated Professor, Mr. Thomas Ioannides and the representatives of the Office of International Relationships of the School of Theology participated in the meeting. From the party of Tbilisi Theological Academy and Seminary, the following members took part in it: The Spiritual Fathers of this educational institution – Archimandrite Seraphim (Chedia) and Archpriest Shalva Kekelia, Mrs. Tamar Sanikidze – Assistant of the Rector in the System of Quality Assurance and Institutional Development, Mrs. Lali Khuchua – Assistant of the Rector in the Field of the Contacts with the Orthodox Educational Institutions of Foreign Countries. Apart from these members of the delegation, the meeting was attended by the Georgian students and graduates of the course of Theology in Athens; Hierodeacon Nicholos (Khvichia) provided the process of the meeting with a simultaneous translation.

The parties discussed the issues, connected with the results of their cooperation and future perspectives which will bolster the institutional cooperation. Among them, with the blessing of the Catholicos-Patriarch of All Georgia Ilia II, within the framework of the Programme of Theology, the exchange of students, Personnel training and holding joint scientific events are envisaged.

It is a noteworthy fact, that Tbilisi Theological Academy and Seminary has had an experience of cooperation with the University of Athens for many years. At present, many Georgian students are taking a course of Theology at this university. The relevant structural units, responsible for these activities at Tbilisi Theological Academy and Seminary, have intensive contacts with them. One of the main issues, discussed at the meeting was precisely the results of the studies of the Georgian students and their necessities. Also, another issue was offensive statements made by some of the students directed towards the Church and its hierarchy. The Spiritual Fathers of the Academy and Seminary remarked that these non-ethical acts are extremely outrageous and inadmissible.

It should be noted, that the University of Athens has invited Tbilisi Theological Academy and Seminary to participate in the International Conference which will be held in 2020. The other participants of the conference will be the educational establishments of other countries engaged in conducting academic programmes of Orthodox Theology. The conference will have on its agenda the challenges for the Orthodox Church in the 21st century.