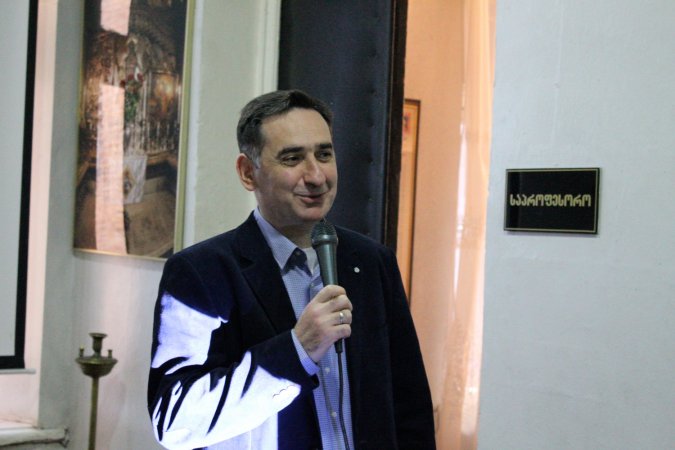 Tao-Klarjeti is distinguished as one of the regions of Georgia by its historical missions and a great number of architectural monuments;
It is a part of Meskheti located within the boundaries of Meskheti today's Turkey. Doctor of history professor Buba kudava dedicated his public lecture to the outstanding mission of Tao-Klarjeti and the lecture of its monuments while visiting Tbilisi Theological Academy and Seminary on October 28.

Tao-Klarjeti is also distinguished by the fact that it is the largest territory among the lost territories of Georgia. Besides,this region of Georgia had been the most unavailable place for the Georgian and consequently, the least investigated. All parts of Georgia, whether large or small are located the administrative boundaries of adjoining countries, but due to the developed political situation, a Georgian could get to any place but not to Tao-Klarjeti. Obviously that is the reason for particular interest of any Georgian towards Tao-Klarjeti. The same interest was felt at Tbilisi Theological Academy and Seminary.

Professor Buba Kudava, with some of his collegues has been investigating the material – cultural monuments existing on the territory of Tao-Klarjeti for 20 years. He has discovered numerous churches, fortresses and other types of fortificational structures, the existence of which had been mentioned in historic sources, but their location and state remained unknown, another part was absolutely unknown of course, during this period investigation must have gained rich experience and material which was published in books. Buba Kudava informed all those present of the catalogue of historical monuments, that had just supervision the catalogue includes more than 700 churches. In his opinion, this number will increase in case of continuing the investigation, as they could not complete the full investigation of the whole territory of Tao-Klarjeti. Each village had in possession about 10 or more churches. We can as well say, continued Buba Kudava that every district of the village has its own church.

The local method of building churches should have also been distinguished by its originality. Almost every remaining dome has preserved its original form. It happens when not a single of the existing churches belongs to the period later than the Xth century.

Kudava also spoke of a number of circumstances that explain the distinguish features of Tao-Klarjeti.

It is known that the Royal family of Bagrationi had received their first Royal Blessing in Tao-Klarjeti. Thus, we can say that this province of Georgia had become the founder of the United Georgian Kingdom. A well-known IXth century church figure and Saint Grigol Khandzteli was active at work on this territory and had built a lot of churches. Monastic life was at its height, gospels were copied and decorated, for example, Tskarostavi and Berta Four famous gospels that are kept in K. Kekelidze National Centre of Manuscripts. The creation of the Four gospels now known as Odishi Four gospel took place here, Beka and Beshken Opizors were also active at work here.

The reporter demonstrated a rich photo material, on the background of which the report sounded more impressive.

At the end the lecturer Kudava presented Tbilisi Theological Academy and Seminary with several books either written by him or under his supervision. As for the Academy, they presented the visitor with the Icon of "Virgin Mary" in token their gratitude and respect.