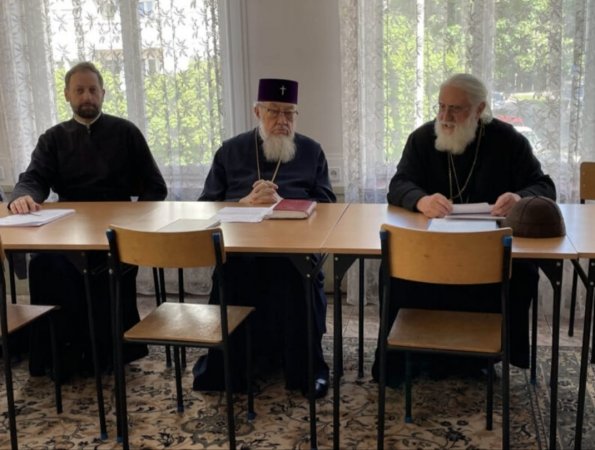 Today, on May 25, at Tbilisi Theological Academy and Seminary, Doctor of Theology and Philology, Professor, Archpriest Bidzina Gunia shared his impressions of his visit to Poland.
The visit to Poland, as part of Erasmus+program, began on May 16 and lasted until May 20 of the current year. Father Bidzina delivered a lecture at Warsaw Academy of Christian Theology on the topic: "The Teaching on the Holy Trinity and the Two Natures of Jesus Christ According to the Texts of the Orthodox Church on Hymnography".
Warsaw Academy of Christian Theology is distinguished by the fact that people of three denominations are involved in the programs of this educational institution - the old Catholics, the Protestants and the Orthodox. For every four years, the rectors at this school are appointed alternately according to these confessions. Currently, the Rector of the Academy is Archbishop of Wroclaw and Szczecin George Pankovsky with whom Father Bidzina had a cordial meeting. This educational institution is located in a building equipped with modern infrastructure which has an electronic library, linguistic cabinets for learning foreign languages.
At the request of the Metropolitan of Warsaw and All Poland, His Beatitude Sawa, a liturgical theme was selected for discussion. The lecture was given in Russian while the liturgical texts were read in the Slavic language. The meeting was concluded with an interesting discussion.
In the Chapel of SS. Cyril and Methodius, where members of Georgian diaspora waited for him, Father Bidzina offered an Akathist to the Most Holy Mother of God. He also offered prayers in the Warsaw Cathedral of Saint Mary Magdalen and the Chapel of Saint Grigol Peradze. In the chapel, he met with its Dean, Father Henrik Paprotsky who is also a researcher working on Saint Grigol Peradze's life and a great friend of the Georgian nation.
Archpriest Bidzina Gunia conveyed to his colleagues the greeting of the Metropolitan Sawa of Warsaw and All Poland.
Father Bidzina noted that his visit to Poland had been fruitful from the scientific point of view and also from the point of view of personal relations. In addition, he expressed his hope that the partnership between Warsaw Academy of Christian Theology and our school would continue in the future.