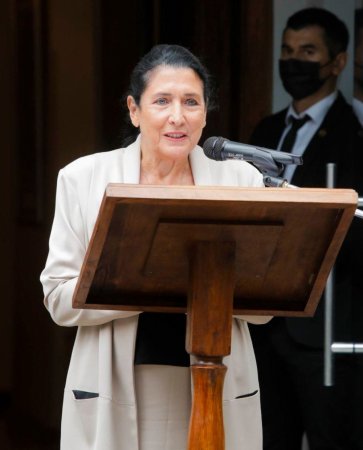 Your Holiness!
Your Eminence, Locum Tenese of the Throne of the Catholicos-Patriarch of All Georgia,
Mr. Speaker of the Parliament,
Dear guests,
It is a pleasure for me to be present at the ceremony of awarding the title of Honorary Doctor (honoris causa) to the Catholicos-Patriarch of Georgia, His Holiness and Beatitude Ilia II, and as the President of Georgia, to have the opportunity to speak briefly on behalf of Georgian society on His Holiness's merits before our country and nation. I should also add that I was a little surprised that His Holiness had not received the honorary degree of our seminary and academy before.
Your Holiness, the Autocephalous Apostolic Orthodox Church of Georgia was reborn in your hands when it was restored as a full member of the family of world churches.
With your indefaticable work, you have been able to construct and rebuild many churches and monasteries in Georgia and, first of all, you did this work everywhere along our borders, which is most crucial for our state.
You made religious education available at the time when the society of Georgia was almost absolutely atheist. That endeavor was manifested, first of all, by the establishment of a theological seminary, which was followed by educational institutions and universities of various profiles.
You achieved to preserve and revive Georgian culture within the Georgian Church, whether it was architecture, winemaking, agriculture, handicrafts, monumental painting, Church hymns, icon painting, enamel art, goldsmithing, or embroidery, and many more.
Unforgettable is your heroism during the 2008 war, when even our enemy was powerless to confront your mission. As a true parent and their own flesh and blood, bereaved with their deaths, you brought down the bodies our fallen heroes from the occupied zone and commited them to the earth with honor.
During these tumultuous years, great is your contribution to the consolation of the devastated parents and to giving new essence to their lives.
You protect orphans, oversee their upbringing and education, and handle the demographics of Georgia.
A list of your deeds has no end and this is an example of genuin work!
Georgian society appreciates your unfathomable service to our country, which is first of all exhibited in the loyalty to our state and society and care for them, during these difficult years.
With a surprising forbearance, you are still bearing the heavy yoke of the Catholicos-Patriarch of Georgia.
It is truly difficult to be the spiritual leader of the community in a transitional time, seeking the people's spiritual salvation by adhering not only to Christian but also to universal humanistic ideas.
You have had to be the spiritual shepherd of Georgia in the time of ordeal. However, ordeals are never over, the world is entering a new turbulent era.
Your prayers have great power. Today, when our two brotherly countries are at war and the blood of our brothers is still being shed on the holy land of the Caucasus, your prayer for peace will spare us from trials and bring peace to us again.
I consider you to be the greatest figure of our epoch and I am happy to have the honor of being President of Georgia during your tenure.
I congratulate you on this day and I wish Georgia that her Patriarch have many more years of life.