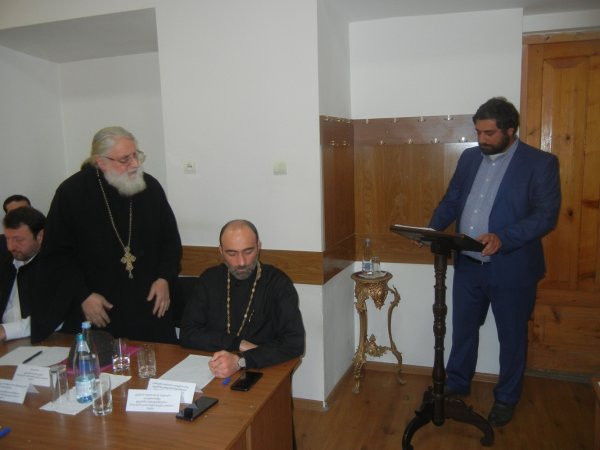 On February 20, the graduates of Tbilisi Theological Academy and Seminary Giorgi Aptsiauri held a defense of his Master's degree paper which was attended by the Rector of Tbilisi Theological Academy and Seminary, PhD in Theology and Philology, Protopresbyter Giorgi Zviadadze, deans of the faculties of this educational institution, heads of the departments and teachers and professors.
Giorgi Aptsiauri's Master's degree paper, titled "The Issues of the Dominant Church in Georgia and European States" (academic supervisor – PhD in Theology, Professor Giorgi Andriadze, Reviewer – PhD in Theology, Archpriest Alexi Qshutashvili) suggests a discussion on general principles of the relationship between the Church and the state, an issue of the dominant Church and models of legal relationships in European states, the dominant Church in Georgia and historical significance of Christianity in the State of Georgia. The author has used 82 literary works written on the topic in the Georgian, Russian and English languages: The Holy Scripture, The writing of the Holy Fathers, Liturgical monuments and scientific works of contemporary theologians and jurists.


In the summary, the academic supervisor of the paper mentions that Giorgi Aptsiauri's interest in the problematics of the legal status of the Church is actual, as intensive discussions have been led around it recently. Accordingly, research in this field is important for solving the problems, which exist in the Church.


The work of the graduatе of Tbilisi Theological Academy and Seminary – Giorgi Aptsiauri was positively assessed by the academic board and the student was awarded with the title - Master of Theology.